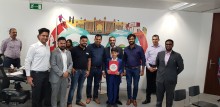 Gallery Suites Vacation Rentals, a subsidiary of the UAE-based IBC Group,  has joined hands with OYO Rooms for a deal valued at US $5 billion (Dh18 billion) to furnish and manage 10,000 premier holiday homes in Dubai. The partnership will manage a portfolio of elite properties in Dubai as uniquely furnished holiday homes that address a growing demand for exceptional short-term rental experiences in the Emirati city.
According to a report released by Skift Research, the cumulative bookings market for short-term rentals will rise to an estimated $115 billion in 2019, up seven per cent  from about $107 billion in 2018. Gallery Suites and OYO Rooms seek to emerge as the service providers of choice for the exclusive end of this burgeoning market in Dubai. The properties being furnished and managed by the partnership are focused within locations rated 'high' in the 'occupancy heat map' used to illustrate demand, in the recent 'Dubai Holiday Homes Market Review 2019' report released by Knight Frank – including the Dubai Marina, Palm Jumeirah and other exclusive addresses in the city.
The alliance between the two heavyweights comes at an opportune time. Globally, travellers are increasingly seeking out the 'home away from home' experience that short-term leasing offers, while aspiring to affordable luxury. The partnership aims to offer a rich pool of high-quality holiday homes, in high-price locations, at affordable rates, to the international travellers visiting Dubai.