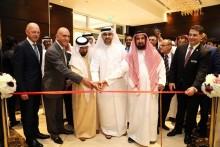 Four points by Sheraton opened its doors in Sharjah with 225 rooms. The hotel stands at the end of the famous Sharjah Buhairah Corniche with easy access to the famous Blue and Gold Souq, offering a variety of options for dining and family entertainment. The hotel provides a complimentary shuttle bus service for guests to visit the picturesque beach side. Four Points by Sheraton Sharjah features 225 contemporary and spacious rooms, including inter-connecting and twin rooms designed to suit the needs of families or large groups staying for an extended duration. Reflecting the brand's promise to provide today's independent travelers with balance, the hotel offers the brand's defining touches including complimentary bottled water in all rooms, fast and free Wi-Fi throughout the hotel and an energizing breakfast with fresh coffee that helps guests start the day right. Every room has the Four Points by Sheraton Comfort Bed, fitted with a plush mattress and down duvet and pillows for the perfect night's sleep. Four Points by Sheraton Sharjah also caters to the needs of business travelers offering six meeting rooms equipped with the latest technology and a dedicated events team tasked to deliver seamless business experiences.
"We are delighted to open the first Four Points by Sheraton in the Emirate complimenting Marriott International's footprint in Sharjah and diversifying the tourist experience in line with Sharjah Tourism Vision 2021. The hotel offers business and leisure travelers with the brand's comfortable hospitality experience and is positioned in an ideal location to explore the city," said Alex Kyriakidis, President and Managing Director, Middle East & Africa, Marriot International.
"The Four Points by Sheraton Sharjah team is excited to open its doors and serve our guests with warm hospitality and authentic service. With its comfortable room offerings, multiple dining experiences and facilities all within close proximity to Sharjah's most popular heritage sites, business hubs and modern retail destinations, the hotel is a great choice for all types of travelers," said Dany Dagher, Complex General Manager, Four Points by Sheraton Sharjah and Sheraton Sharjah Beach Resort & Spa.