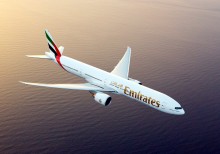 Emirates will increase the capacity of its services to Egypt from October 29, 2017, with the launch of four additional scheduled flights from Dubai to Cairo every week. The four new flights will increase the number of frequencies between the two cities to three each day, and take the total number of weekly Emirates flights serving Cairo to 21. The carrier for the new services will be Emirates' 360-seat Boeing 777-300ER, in a three-class configuration, with 8 private suites, 42 Business Class seats and 310 Economy Class seats. These services will add 1440 seats each way per week on the route as well as 23 tonnes of additional capacity for cargo per flight.
Orhan Abbas, Emirates' Senior Vice President Commercial Operations for Africa, says, "We will continue to invest in Egypt, empowering the local economy and helping it expand its business and tourism presence."
This addition is also a part of Emirates' commitment to offer its customers numerous choices on all the routes, so that they are seamlessly connected to any point in the Middle East, Asia, Americas, Africa and Australia as per their convenience.
The additional Dubai-Cairo flight, EK 925, will leave Dubai at 2050 hours and arrive in Cairo at 2305 hours. The return flight, EK 926, will take off from Cairo at 0045 hours and arrive at Dubai at 0615 hours.