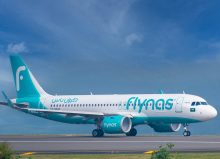 flynas announced launching direct flights to the Ethiopian capital of Addis Ababa from Riyadh and Jeddah as of October 9, in line with flynas plans to further expanding its network in the African market, and within the the growth and expansion plan launched by flynas early last year under the slogan "We Connect the World to the Kingdom," and in parrel with the National Civil Aviation Strategy to reach 330 million passengers and 100 million tourists, and to increase the number of international destinations connected to the Kingdom to more than 250 destinations by 2030, and to achieve the objectives of the Pilgrims Experience Program to provide an easier access to the Holy Mosques.
The leading LCC will operate the new route from Riyadh as of October 9 with three weekly flights on Mondays, Wednesdays, And Fridays. And from Jeddah starting from October 10 with three weekly flights on Tuesdays, Thursdays, and Saturdays, connecting Saudi and Ethiopia with six direct weekly flights. This will reinforce the travel destinations to Africa offered by flynas to the pilgrims and visitors between the two countries.
The leading LCC connects more than 70 domestic and international destinations, with more than 1,500 weekly flights. Passengers traveling with flynas can book their flights through all flynas booking channels: www.flynas.com, the flynas app, the call centre (920001234), or travel agents.