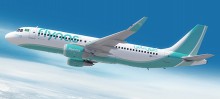 The Saudi-based national airline, flynas, is increasing capacity between their home country and the UAE with new flights linking Abu Dhabi with Riyadh and Jeddah. Effective on June 23, flynas will add a second daily service between Riyadh and Abu Dhabi, increasing its combined offer with Etihad Airways to four daily services. Also on June 23, flynas will enter the Jeddah–Abu Dhabi market with a daily flight which will complement Etihad Airways' existing thrice daily services. Together, both carriers will offer four daily services linking Jeddah and the capital of the UAE. These services will provide guests with greater choice and flexibility when travelling between the two countries and beyond over Etihad Airways' worldwide network.
In addition to Riyadh and Jeddah, Etihad Airways currently serves Dammam and Madinah, offering a total of 63 weekly flights to the Kingdom of Saudi Arabia. Whilst flynas new services will offer 14 weekly flights from Riyadh to Abu Dhabi and seven weekly flights from Jeddah to Abu Dhabi.
The additional flights from flynas will be operated by a two-class Airbus A320 aircraft, offering an additional 3,416 seats per week, and ensuring maximum connectivity through Etihad Airways' Abu Dhabi hub to key destinations in North America, Europe, the Indian Subcontinent, and Southeast Asia.
This comes as part of an expanded codeshare agreement between the two airlines signed in October 2012. The codeshare agreement allows flynas to place its 'XY' code on multiple Etihad Airways' flights between Abu Dhabi and 20 destinations on its global network.
Gregory Kaldahl, Etihad Airways' Senior Vice President Network, said: "The expanding of our codeshare with flynas reflects our commitment to the key market of Kingdom of Saudi Arabia.