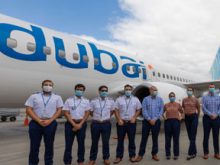 flydubai landed in Kyiv's Boryspil International Airport (KBP) on July 8, marking the start of scheduled services following the lifting of flight restrictions that were implemented in response to the COVID-19 pandemic. flydubai flight FZ 727 departed from Terminal 2, Dubai International (DXB) at 09:20 and landed in Kyiv's Boryspil (KBP) at 14:10 where it was welcomed by officials from the airport. Onboard the aircraft were 12 Business Class passengers and 155 Economy Class passengers.
Jeyhun Efendi, Senior Vice President, Commercial Operations for flydubai, said, "we would like to thank the authorities and members of the travel industry for their involvement in supporting the resumption of our scheduled flights to Kyiv. These combined efforts have enabled Kyiv to be one of the first destinations to open on our network and we look forward to bringing more passengers to Ukraine."
flydubai's passenger experience has been redesigned to enable travel in a safe environment that minimises crew and passenger contact, and every passenger will receive a complimentary snack or meal onboard. During a flight, air is exchanged in the cabin every two to three minutes and is sterile when it enters the cabin after passing through high-efficiency particulate air (HEPA) filters. flydubai's aircraft are disinfected every day with manufacturer-certified cleaning products.From 07 July, Dubai is ready to receive visitors and has implemented stringent public health and safety measures to ensure that visitors feel safe when they arrive.
Efendi added, "We have been hard at work to redesign our passenger journey in order to minimise the risk of transmission of COVID-19, and these efforts are to ensure that visitors feel safe when they arrive in Dubai. To realise the benefits of travel, flydubai is committed to offering passengers flexibility in their travel arrangements and we look forward to welcoming passengers onboard this summer."