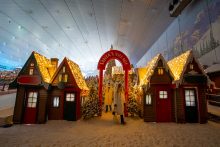 Hong Kong Tourism Board (HKTB) launches a Standardised Hygiene Protocol in partnership with Hong Kong Quality Assurance Agency (HKQAA) to assure visitors of a safe and healthy stay. The protocol aims to provide a unified set of guidelines on hygiene and anti-epidemic measures for tourism-related industries that bolster visitors' confidence in traveling to Hong Kong; The protocol will cover shopping malls, hotels, restaurants, retail stores, coach companies, tourism attractions, travel agencies and more. More than 1,800 businesses and outlets have expressed interest in adopting the protocol in their business; and The businesses and outlets can display a designated logo for recognition to show their commitment to the protocol. The HKQAA will conduct random visits for continued inspections.
Further relaxation of Social Distancing Measures – The latest social distancing measures to be effective from October 30: Relaxations for catering businesses (e.g. restaurants, bars and pubs, nightclubs) – Maximum number of people per table will increase to 6 people for restaurants (currently 4 people); and 4 people (currently 2 people) for bars and clubs; Maximum number of people will increase to 75% of seating capacity (currently 50%); Maximum number of people in public entertainment venues (such as theme parks, museums, performance venue) will increase to 75% of total capacity (currently 50%); Restriction on the number of people in group gatherings (currently 4 people) and mandatory mask-wearing in public venues will be maintained.
Local tours exempted from social distancing restrictions – Starting October 23, local group tours of maximum 30 people by licensed travel agents will be exempted from group gathering restrictions, as long as they comply with a range of epidemic prevention measures.
HKTB launches 'Free Tour' programme – Riding on this announcement, the HKTB is launching the "Free Tour" programme, under which local residents are eligible to join a free local tour by spending at least HK$800 at brick-and-mortar retail and dining outlets in Hong Kong. The programme aims to boost the local economy, while the travel trade can resume business and warm-up for receiving visitors once it is possible.