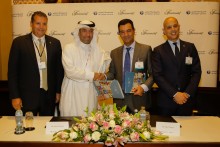 Luxury operator Fairmont Hotels & Resorts has announced the signing of two new luxury hotel developments in Morocco and the Kingdom of Saudi Arabia. The two new projects include Fairmont Taghazout Bay, Morocco and Fairmont Al Khobar, Saudi Arabia, which are both scheduled to open before 2020. Fairmont Taghazout Bay is scheduled to open in 2019, the project is situated in Taghazout Bay, a 615 hectare seaside resort located 18 km north of Agadir on the Atlantic coast. The hotel sits on 180,000 square meters (1.9M square feet), of beachfront adjacent to the 18-hole golf course designed by Kyle Phillips which was recently completed in 2014. Fairmont Taghazout Bay will feature 155 spacious guestrooms, with sea facing views, in addition to 52 Fairmont branded villas, to be released for sale later this year, which will be the first luxury waterfront villas of this kind in the country.
The development of these properties will see Fairmont's luxury hotel portfolio in the Middle East, Africa and India (MEAI) region increase to 20 hotels by 2020, more than doubling the regional pipeline and boosting the brand's presence within two major economic and tourist hubs.
Fairmont Al Khobar currently in development and set to open in 2020, Fairmont Al Khobar will be situated in Al Khobar on the coast of the Arabian Gulf. This area, together with the neighboring cities of Dammam and Dhahran, form the Dammam Metropolitan Area, the capital of the Eastern Province.
In addition to the 240 guestrooms and 12 serviced residences, the property will feature over 4,000 square meters (approximately 43,000 square feet) of meeting and conference space including the largest ballroom in the province. A variety of food and beverage offerings including a vibrant lobby lounge, specialty restaurant and gourmet pastry café plus a range of wellness and fitness facilities, including a spa, will be available.