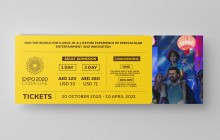 Great value ticketing at Expo 2020 Dubai will open doors to a world of fun, culture, entertainment and innovation, and ensure the six-month spectacular is a global celebration for all. A single-day adult (18 and above) ticket will cost AED 120 (USD 33), while a three-day pass, which can be used on any three days during the 173 days of the Expo, will be priced at AED 260 (USD 71), organisers announced. A ticket will give its holder access to a once-in-a-lifetime experience, including 60 live shows a day, future-shaping technologies, performances from world-famous artists, daily parades, cutting-edge architecture, special celebrations and more than 200 F&B outlets serving a world of cuisines.
Expo 2020 will offer a range of concessions, including free access for children aged five and under and seniors aged 65 and above. Youth aged six to 17 and students of any age will receive 50 per cent discount, while people of determination will be granted complimentary access, with their carers entering for half price. The Expo School Programme also will offer specially-curated journeys for school students of all ages to excite and educate them on the Expo sub-themes.
Sanjive Khosla, Deputy Chief – Sales and Marketing, Expo 2020 Dubai, said, "We aim to be a World Expo that is accessible to all and believe the ticket prices and concessions will help us achieve that ambition. We can't wait to welcome millions of visitors from around the globe, as we make every effort to ensure that our welcome is warm and reflective of the rich Arabic tradition of hospitality."
Single-day and three-day tickets will be offered to international travellers in bundled packages to be sold by Authorised Ticket Resellers, contracted with Expo 2020 starting next month. These tickets will go on sale to the general public in April 2020, although visitors will be able to buy monthly and season passes directly from Expo from Q4 2019.