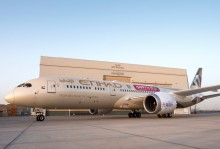 Etihad Airways is set to operate 787 Dreamliner on the Abu Dhabi-Casablanca route, making it the first North African destination to be served by the aircraft. The three-class aircraft, featuring eight First Suites, 28 Business Studios and 199 Economy Smart Seats, will replace the Airbus A330s currently operating daily on the route, and will offer additional cargo capacity.
Peter Baumgartner, Chief Executive Officer, Etihad Airways, said, "We are delighted to deploy our flagship Boeing 787 Dreamliner on yet another route that will give even more guests the opportunity to experience our next generation aircraft. In addition to maintaining attractive timings for guests travelling between Abu Dhabi and Casablanca, we will create further suitable connections in many markets to benefit more travellers."
Etihad Airways will maintain an early morning arrival into Casablanca and operate a revised mid-morning return service that will improve connectivity to a wider network of destinations across Asia and Australia. The airline has a fleet of 18 Boeing 787-9 Dreamliners operating from Abu Dhabi to 17 destinations worldwide.