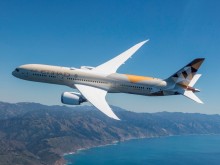 Etihad Airways will launch flights to Azerbaijan's capital Baku from March 2, 2018. The new route is being introduced to capitalise on the growing demand for flights between the United Arab Emirates and Azerbaijan. The service will be operated thrice a week using a 136-seat Airbus A320, configured with 16 seats in Business Class and 120 in Economy.
Azerbaijan introduced a visa waiver programme for UAE nationals in November 2015 and expanded it to other GCC nations in early 2016. This prompted a surge in travel from across the GCC to the emerging tourist destination located at the crossroads of Europe and Asia, offering visitors access to vast areas of unspoiled nature and centuries-old culture. Baku, which sits on the Caspian Sea, is the country's primary gateway and commercial centre.
Peter Baumgartner, Chief Executive Officer, Etihad Airways, said, "The creation of the first ever air corridor linking the two capital cities demonstrates the importance of strengthening business, tourism and cultural ties between the UAE and Azerbaijan.