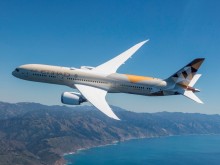 Beginning with the summer schedule, Etihad Airways has launched its flagship Boeing 787 Dreamliner on the Abu Dhabi–Geneva route. The three-class aircraft, featuring eight First Suites, 28 Business Studios and 199 Economy Smart Seats, replaces the Airbus A330s previously operating daily on the route, and offers additional cargo capacity. Peter Baumgartner, Chief Executive Officer, Etihad Airways, said, "We are delighted that Switzerland, one of our most attractive markets for both business and leisure travellers, will now be exclusively served by our flagship Boeing 787 Dreamliner."
"In addition to maintaining attractive timings for guests travelling between Abu Dhabi and Geneva, we will create further suitable connections in many markets that will benefit more travellers to conveniently connect to Geneva via our Abu Dhabi hub. Through our optimised schedule, more business and leisure guests from an increasing number of destinations will now have the opportunity to experience our next generation aircraft throughout their journey with us."
The new generation aircraft's environmental performance brings a number of operational advantages, such as a 12 per cent reduction in fuel consumption compared to the previous aircraft on the route and a concomitant substantial reduction in carbon dioxide emissions.