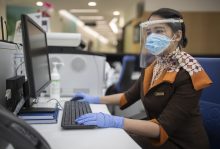 Etihad Airways has amplified its corporate social responsibility (CSR) initiatives to support those affected by the novel coronavirus. In an effort to provide additional safety for medical staff interacting with patients, the Etihad Airways Medical Centre (EAMC) collaborated with Etihad Engineering to develop personal protective equipment (PPE) that would add an additional layer of protection for healthcare professionals working in medical centres across the UAE.
Dr. Nadia Al Bastaki, Vice President Medical Services at Etihad Aviation Group said, "As part of our CSR efforts, as an organisation we challenged ourselves to determine what we could do to help combat the effects of this global pandemic. With high demand for PPE in the UAE, our innovative design team at Etihad Engineering successfully developed 1,000 face shields for us to distribute locally. With the logistical support of Emirates Red Crescent, we'll start distributing the face shields to medical professionals at EAMC and SEHA this week."
"An overwhelming number of our employees have selflessly put their hand up to volunteer, from working at call centres, to distributing masks and gloves and physically cleaning the streets of our capital city as part of the government's sanitisation programme. This year, Eid will not be the same for most. Therefore, in collaboration with Grace Conservation, we will be distributing 1,000 gift boxes to families in need containing clothes for adults and children," added Dr Nadia.