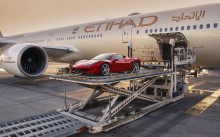 Ahead of the seasonal surge in demand for luxury vehicle shipments to popular holiday destinations, Etihad Cargo celebrates the launch of 'FlightValet', its newly designed product aimed to ease the process of moving motor vehicles across the globe. Etihad Cargo transports hundreds of high-value vehicles annually on its passenger and freighter aircraft, and this new product will further simplify customers' booking experience.
Commenting on the launch, Abdulla Mohamed Shadid, Managing Director – Cargo and Logistics, Etihad Airways said, "We are delighted to introduce this new tailored product to the marketplace. Demand from our customers has grown significantly in recent years, and in an effort to improve our service offering, we have introduced vehicle handling capability at key new stations in 2018."
FlightValet is available to those who wish to transport their luxury vehicles immediately. Customers choosing the service will benefit from Etihad Cargo's proven track record in handling some of the world's most valuable cars. FlightValet is offered through a dedicated team that will oversee the swift, safe and secure delivery of the vehicle to its final destination. Throughout the year, it will also cater to racing enthusiasts worldwide wishing to take their cars around iconic racetracks such as Abu Dhabi's Yas Marina Circuit, home to the Formula 1 Etihad Airways Abu Dhabi Grand Prix since 2009.