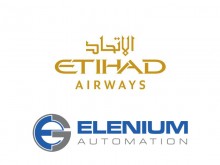 Etihad Airways and Elenium, a leading provider of automation technology solutions, will together demonstrate how a newly developed voice activated self-service kiosk, bag drop and boarding gate facility will revolutionise the travel experience by taking facial recognition technology to new heights. The demonstration will take place at Passenger Terminal Expo (PTE) in London between March 26 – 28. Using cloud technology, artificial intelligence (AI), computer vision and natural human interfacing, Etihad Airways and Elenium will demonstrate how they will change the way consumers travel by showcasing the airport experience of the future.
Jorg Oppermann, VP Hub and Midfield Operations, Etihad Airways, said, "With biometric installations increasing across airports globally, Etihad is recognising the growing demand to streamline not just the passenger verification process but to also decrease passenger queues and to increase operational efficiency."
A key area of cooperation involves the use of technologies from Elenium, Amazon Web Services (AWS), the cloud computing subsidiary of Amazon Inc, and Etihad Airways. Together at PTE, the three entities will demonstrate a test concept for a seamless travel experience across the entire customer journey from booking to arrival at the final destination.
Mike Papamichael, VP Technology and Innovation, Etihad Airways said, "The technological vision and strategy is to make the guest journey a frictionless and digitally enabled experience across all channels and touch points at the airport. Etihad's relationship with Elenium builds on this vision and along with our micro services strategy, allows us to co-create and develop innovative self-service and biometric solutions for greater flexibility and a seamless guest experience."