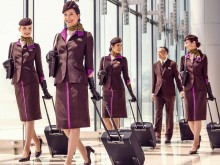 Reaffirming its commitment to Nigeria, Etihad Airways has announced two additional weekly flights on the popular Abu Dhabi–Lagos route, taking it to a daily service. The new Tuesday and Thursday services will start on May 1, 2018. The route will continue to be operated by a two-class Airbus A330, with 22 Business Class seats and 240 in Economy.
Mohammad Al Bulooki, Executive Vice President Commercial, Etihad Airways, said: "Nigeria is an important market for Etihad and our home of Abu Dhabi. Since launching the Lagos route in July 2012, Etihad has carried almost 600,000 passengers between our hub at Abu Dhabi International Airport and the commercial heart of Nigeria. It is pleased to be able to support the high demand for our service by soon operating the route on a daily basis."
Guests travelling to Lagos on Etihad Airways will experience the airline's award-winning service by multinational cabin crew and onboard nannies, extensive inflight entertainment selections and a choice of complimentary international meals and beverages. Depending on the class of travel, passengers can enjoy a generous baggage allowance of two bags of up to 23 kg each in Economy Class and up to 32 kg each in Business Class.