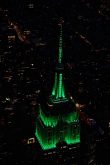 The Empire State Building (ESB) celebrated Eid al-Fitr on May 24, 2020, with a tower lighting in green – a colour that symbolises peace and purity in Islam – along with ESB's signature "Heartbeat of New York" effect. This special tribute commemorated the end of the holy month of Ramadan, embodying the enduring spirit and joyous festivities taking place around the globe, and raising awareness about the impact of the global COVID-19 pandemic.
Eid-al-Fitr, or "the Festival of Fast-Breaking," marks the conclusion of a month-long spiritual renewal for the global Muslim community. During Ramadan, Muslims around the world traditionally observe a strict fast from sunrise until sunset, participate in prayer, and gather together as friends and family to break their fast and share in acts of kindness. This year gratitude and appreciation are more important than ever as Muslims worldwide have experienced a Ramadan amid the COVID-19 pandemic. The heartbeat signature effect for Eid al-Fitr was meant not just to celebrate the holiday, but to also recognise Muslims in their shared global battle against the illness; and to extend wishes for health, peace, and connectivity during these unprecedented times.
Additionally, the Empire State Building sparkled on the hour in yellow, blue, silver, red, white, and green in honour of first responders. A five-minute moment of darkness was observed in honour of those everywhere, who have lost their lives in the pandemic as well as those who grieve for them.