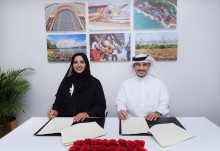 Emirates Airline has signed an agreement with Smart Dubai to offer special flight discounts to the latter's employees for travel. Emirates will also support Smart Dubai with its travel requirements to participate in international events and conferences, as well as with the events that it organises on a yearly basis in Dubai, including the Future Blockchain Summit and Smart Dubai Blockchain Challenge. The agreement was signed by Sheikh Majid Al Mualla, Divisional Senior Vice President of Commercial Operations Centre at Emirates, and H.E. Dr Aisha Bint Butti Bin Bishr, General Director of Smart Dubai.
Sheikh Majid said, "We are proud to partner with Smart Dubai to provide their teams with special travel benefits and to support their many activities and initiatives. Emirates is fully aligned with their vision to deliver world-class smart services and infrastructure through embracing technology and innovation, in order to ultimately make Dubai the world's smartest and happiest city."
H.E. Dr Aisha commented, "We continue to invest in innovative technologies and network with skilled industry experts, entrepreneurs and organisations that have launched exceptional start-ups. Our aim is to continue raising awareness around the world and with the support of our new partner, Emirates, we look forward to accomplishing our goals and transforming Dubai into a leading, global smart city."
Smart Dubai consists of 304 employees who are now are entitled to purchase Emirates flight tickets at a discounted rate. This offer applies to all destinations on the Emirates network, originating from Dubai, and can be availed upon booking at Emirates offices, as well as select travel agents. Emirates will be hosting travel clinics at the Smart Dubai offices over the next few months to provide their employees with information on the special benefits and privileges they will receive when travelling with the airline.