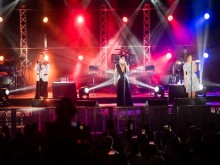 Dubai World Trade Centre (DWTC) has announced another successful year for its consumer and entertainment events as it closes 2018 having hosted over 500,000 visitors across more than 29 events. This shows approximately 7 per cent increase in visitor numbers for the consumer and entertainment events from 2017. Ranging from pop concerts and theatrical productions to consumer shows and sporting events, DWTC's events calendar has been strategic in the evolution of Dubai as a global business, leisure and entertainment hub.
Mahir Julfar, Senior Vice President — Venue Services Management, Dubai World Trade Centre said, "DWTC's annual consumer and entertainment events calendar has become an important component of our MiCE sector offering as it continues to attract thousands of thrill seekers, super fans, sporting enthusiasts and music lovers from around the world. The number of attendees in 2018 is testament to the strength of this market segment. As we go into the new year, we look forward to contributing to the city's exciting, multicultural leisure and entertainment offering with an unforgettable line up of events, shows and festivals for the entire family."
Over 420 exhibitors and 45,965 of the region's pop-culture fans attended the Middle East Film & Comic Con in 2018, immersing themselves in international popular culture, film, TV, sci-fi, animation, manga, comics, collectibles, and more, through a series of talks, meet-and-greets, workshops, live events and an exhibition. Running for the 19th year, Modhesh World, Dubai's largest indoor family 'edutainment' destination, was spread across eight halls over the summer months, featuring a plethora of attractions, experiences, games, shows, contests and workshops. The 22nd edition of Carpet Oasis drew in 24,000 traders and visitors from all over the world to explore thousands of handcrafted silk carpets and antique souvenirs, including some of the finest products from Iran, Turkey, India, Pakistan, Afghanistan, China, Turkmenistan and Azerbaijan. One of the highlights for the younger generation this year was the 'Passport to Adventure' Disney On Ice production which dazzled a 20,000 strong audience with its combination of world-class ice skaters and heart-warming Disney stories, lavish costumes, dazzling lighting, and enchanting music.