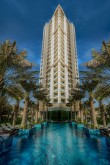 Dusit International has signed a management agreement with Dar Al-Huda Hotel Apartments SPC to operate Dusit Resort and Spa Lagoona Beach in Al Budaiya in Bahrain. The hotel comprises 174 spacious, well-appointed seafront apartments, each with sea views. Alongside a health and fitness centre with gender segregated spas and swimming pools, resort amenities include water sports, zip-lines, private islands, meeting facilities, a kids' club and an all-day-dining restaurant. A luxury villa complex with water park is also being planned.
Dusit Resort and Spa Lagoona Beach will be the second Dusit-branded property in Bahrain. It follows last year's signing of Dusit D2 City Centre Bahrain, which is slated to open by the end of the year. In line with Dusit International's strategy for sustainable and profitable growth, which includes balancing its portfolio to include half of its operations outside of Thailand by 2022, the company's current tally of 27 properties is set to top 70 within the next four years.
"Our aim is to have at least 25 hotels in operation in the region by 2020, representing 5,700 keys," said Lim Boon Kwee, Chief Operating Officer, Dusit International. "The best way to achieve this, of course, is by ensuring we always go the extra mile to delight our guests and customers with our unique brand of gracious hospitality. We are delighted Dar Al-Huda Hotel Apartments SPC has given us that opportunity at Dusit Resort and Spa Lagoona Beach. This is an excellent property in a prime location, and we look forward to making it a huge success,"Kwee said.