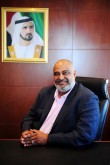 Dubai tops the list of timeshare destinations for Africans, driven by its world-class shopping malls and traditional attractions. Africa represented 5 per cent of the total inbound tourism source market of Dubai in 2015 and the potential to develop this segment appears lucrative due to the government's effort to encourage economic ties with the African continent. The survey was done by Arabian Falcon Holidays (AFH), the independent timeshare player in the Middle East.
According to Arabian Falcon Holidays, the timeshare market is expected to grow strongly, surpassing the average growth rates of 15 per cent to 20 per cent per year, with 2017 heralding a new era that will witness 50 per cent growth as new tourists visit theme parks and attractions such as Dubai Opera.A recent report by Interval International, a world renowned exchange company with over 2,500 resorts worldwide, stated that Dubai has the potential to become the new Orlando or Las Vegas of timeshare.
Analysing the figures in Dubai, the report found out that if 5 per cent of the emirate's 100,000 hotel rooms and serviced apartments are converted to timeshare, with an estimated average sale price of AED73,400 ($20,000) for each week's vacation ownership, it could result in a whopping AED18.35 billion ($5 billion) in sales volume.
Mohannad Sharafuddin, Founder, Arabian Falcon Holidays, said: "Dubai is the top destination amongst our timeshare owners from Africa. Efforts of the UAE government in strengthening its economic ties with the African countries proves to yield mutual benefits. One of the vital reasons behind the dynamic UAE-African relations is the robust role of Dubai. This is reflected through an increase in a number of African tourists coming to the country as a result of more direct flights and easier visa regulations. Africans believe in spending quality time with their families and opt to buy timeshare, which promotes the idea of family holiday. Considering the advantages to invest in timeshare, owners do not just benefit financially by savings thousands of dirhams, they are also privileged to experience high-quality services. Our timeshare agreement is for a 50-year period during which rates remain the same. Moreover, timeshare owners can opt for worldwide exchange by paying a small transfer fee.
Visiting Dubai serves as an aspiration for many travellers from various parts of the world. It has just about everything for every category of traveller. The timeshare industry can support in further making Dubai more attractive, economical and accessible in order to encourage travellers, especially those with families, to visit the dynamic emirate year after year. We look forward to the enactment of a new legislation that would bring confidence in the timeshare market and maintain a fair balance between the interests of both customers and operators. "
With over 200,000 Nigerians visiting Dubai in 2015, AFH is continuing to expand its reach in the country and other nations such as Angola, Ghana, Kenya, Tanzania, Uganda and Senegal.