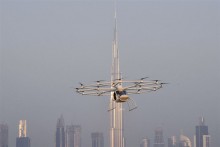 The Crown Prince of Dubai, HH Sheikh Hamdan bin Mohammed bin Rashid Al Maktoum, took the maiden 'Autonomous Air Taxi' on a test drive near the Jumeirah Beach Park. The two-seater AAT, capable of transporting people without human intervention or a pilot, will soon be made available by Dubai's transport services department. The drone air taxi has been supplied by Volocopter, a Germany-based specialist manufacturer of autonomous air vehicles.
"After the remarkable success of the first driverless metro in the region, we are glad to witness today the test flight of the Autonomous Air Taxi," said HH Sheikh Hamdan. "This is another testament to our commitment to driving positive change. We are constantly exploring opportunities to serve the community and advance the prosperity and happiness of society." He further said that adopting advanced innovative technologies and applications that help to enhance services for the community is key to topping global competitiveness rankings. "Encouraging innovation and adopting the latest technologies contribute not only to the country's development but also build bridges into the future," he added.
HH Sheikh Ahmed bin Saeed Al Maktoum, Chairman of Dubai Civil Aviation Authority and Chairman of Emirates Group; HE Mohammad bin Abdullah Al Gergawi, UAE Minister of Cabinet Affairs and The Future; and HE Sultan bin Saeed Al Mansoori, UAE Minister of Economy and Chairman of the General Civil Aviation Authority also attended the test flight.