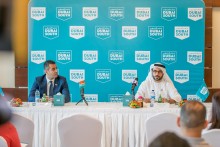 Dubai South Properties has revealed that preparations are well on track to effectively meet the constantly evolving property and community needs of discerning investors and end-users, who seek to explore the attractive propositions offered in Dubai South. Recognised as the UAE's flagship urban development, Dubai South builds on the vision of His Highness Sheikh Mohammed bin Rashid Al Maktoum, Vice President and Prime Minister, UAE and Ruler, Dubai and is designed to support the diverse needs of a multitude of businesses, industries, investments current and future residents. Real Estate projects that are currently being developed within Dubai South Residential City including the Pulse – a successful "freehold", mixed-use community which is set for handover mid 2019 onwards. Featuring townhouses, apartments, shopping destinations and urban design landscape, the Pulse offers a unique lifestyle and is catered to mid-market audience.
Mohammed Al Awadhi, CEO, Dubai South Properties, said, "The Emirate of Dubai has always been the number one hub for investors, individuals and families from all over the world, who seek a better life, socially and economically. Besides, Dubai is seen as the number one holiday destination by millions of visitors and tourists. Dubai South aims to be a major contributor to Dubai's growth and the achievement of its vision by presenting this state-of-the-art development. By creating the most desirable environment for the society, our mission is to deliver a better lifestyle in every sense. We are drawing inspiration from the insights we gained from our experiences in Dubai and worldwide and taking it to the next level, in terms of education, medical care, and offering truly convenient communities, to contribute to the vision of happy cities."
New developments under the hospitality segment include a Marriott lifestyle brand – Aloft Hotel- opened in 2018, Holiday Inn/Staybridge Suits set to open doors this year and the Hilton 5* hotel scheduled to open by 2020. These hospitality developments together will provide an additional 2,000 hotel rooms ahead of the EXPO 2020 Dubai, which is set to attract 25 million visitors. Furthermore, the projects, along with the Al Maktoum International Airport that is currently under major expansions, will lead to the creation of thousands of jobs.