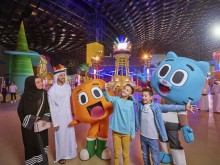 The Dubai Pass, an all-inclusive, pre-paid pass, created by iVenture Card and Dubai's Department of Tourism and Commerce Marketing (Dubai Tourism) is offering users access to 15 more attractions, with 48 experiences now available to choose from through the upgraded pass. With a competitive starting price of AED 425 (US$116) for adults and AED 405 (US$110) for children, the newly re-launched pass offers great value on entrance to a number of the city's high-profile attractions, tours and experiences enabling visitors to enjoy the best of Dubai for less.
With the ultimate attractions pass, visitors to the city can now choose from 48 of Dubai's leading experiences. Combining the best of the emirate's sightseeing, theme parks, cruises, adventure and cultural experiences into a pre-paid pass, users can save up to 60 per cent overall on Dubai's leading leisure spots.
Ahmed Al Khaja, CEO, Dubai Festivals and Retail Establishment (DFRE), said, "Dubai Pass has been enhanced to provide visitors with ease of access to a variety of the city's tourist attractions through offering a range of experiences at great value for both families and independent travellers."
Dubai Pass offers three bespoke packages that allow users to discover Dubai's diverse destination offering with special pricing packages for both adults and children. With options to purchase the Dubai Select, Dubai Flexi or Dubai Unlimited Pass, users are invited to explore the best of the city with more flexibility and at better value. Additionally, with the purchase of every Dubai Pass, visitors can also enjoy a 50% discount on tickets to one of the city's leading shows, La Perle by Dragone, by simply presenting their Dubai Pass upon purchase of the tickets.