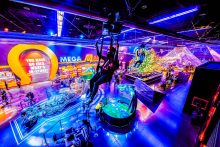 Get ready to experience the ultimate thrill at GLITCH, Dubai's newest – and one of the largest – family-focused entertainment centre, set to swing open its doors on June 19 at the Al Ghurair Centre in Deira. With more than 30 interactive attractions designed for children, teens, and the young at heart, GLITCH promises non-stop excitement and endless fun for all the family both residents and travellers.
Owned and operated by Al Ghurair Properties (AGP), the complex is spread across 40,000Sq ft on Level Two of the Al Ghurair Centre. The region's hottest new entertainment facility offers a host of activities, including Newton's Wall, an ultimate climbing challenge that dares thrill seekers to test not only their physical but also their mental strength, as well as their ability to defy gravity. Wannabe ninjas can level up at Kazu by tackling multiple warrior courses that test strength and agility, while SkySurf, Dubai's only indoor roller glider, allows visitors to get their adrenaline pumping as they zip around the ceiling, 10-metres high, embodying the feeling of flying.
And that's not all. GLITCH also offers a gaming haven hidden within its walls. GamePort Arcade caters to all age groups, with old-school nostalgia-inducing video games alongside the newest Virtual Reality (VR) experiences, the arcade boasts a rare range that guarantees hours of entertainment. GLITCH is also home to BeastBowl, an eight-lane bowling centre fitted with state-of-the-art automated scoring from Brunswick. So, rally the troops and rack up those monstrous strikes and spares!
Bert Grogor, Vice President of Leisure and Entertainment at GLITCH, said: "GLITCH was not created to be just another theme park, land, or zone. We set out to create a unique, immersive experience that allows visitors to express their 'extra', let their hair down, and enjoy a day of non-stop fun and excitement. Our focus on adventure, active entertainment, and cutting-edge attractions is what sets us apart, and we're delighted to offer something truly different for families looking to create unforgettable memories together."
GLITCH also offers a region's first: Pandora's Peak, an ultimate challenge dedicated to fearless children as young as four. The youngsters can clamber their way from level to level, through cotton candy clouds until they reach the top. Meanwhile, Loop-de-Loop takes children on a rousing journey of twists and turns before they zoom down a 10-metre-high platform.
"The modern mall has transformed from being mere shopping destinations to being dynamic entertainment hubs and socialising spaces," added Anwar Atari, CEO, Al Ghurair Properties – Residential & Commercial. "We are committed to staying ahead of the curve by moving away from the traditional approach to presenting new offerings to customers. We custom design our venues and attractions to be different, to meet the changing needs of new generations, and to exceed the expectations of our customers."
Fantastically fun, GLITCH also promises a host of snack options, including popcorn, slushies, sweets, and more. Starting 19th June, GLITCH will be open Sunday to Thursday from 10am-10pm and Friday and Saturday 10am to 12am. For ticket prices and further information, follow GLITCH on social media @glitcharabia or visit www.glitcharabia.com. Get ready to dive into the GLITCH universe at Al Ghurair Centre and #UnleashTheExtraInYou.