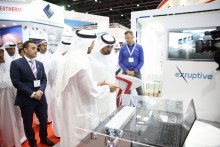 His Highness Sheikh Ahmed bin Saeed Al Maktoum, President of Dubai Civil Aviation Authority, Chairman of Dubai Airports, Chairman and Chief Executive of Emirates Airline and Group and Patron of Airport Show, opened the 18th edition of Airport Show in Dubai. Opening the event, Al Maktoum said contribution of the aviation sector to Dubai's GDP has been growing steadily and is expected to reach 38 per cent, thus creating more jobs and aiding overall growth. Earlier, His Highness Sheikh Ahmed inaugurated this year's Global Airport Leaders' Forum (GALF) running parallel to the Show. Speaking on the sidelines after touring the exhibition area, he said on the new initiatives of the Dubai government to increase investments and instill confidence in the private sector.
The 18th edition of Airport Show features two new co-located events, Air Traffic Control Forum, Airport Security Middle East, in addition to CAPA-Centre of Aviation Global Airport Leaders Forum (GALF) and women in aviation. Dubai Civil Aviation Authority Director General HE Mohammed Abdullah Ahli said: "Our participation in the show is in line with our objectives of benefiting from the latest knowledge and expertise along with the best practices in managing air traffic growth."
The Middle East aviation industry is witnessing an exciting time with the region recording the second highest passenger traffic growth rate and continuing with its multi-billion-dollar airport expansion and modernisation programs.