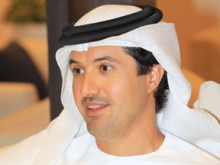 Dubai's Department of Tourism and Commerce Marketing held a series of strategic meetings with UK-based tourism companies in London last week, sharing new destination insights including the diverse festivals sector and highlighting the emirate's enduring commitment to its third largest source market, as part of efforts to further boost British tourist arrivals. The meetings in London are part of a series of similar discussions that Dubai Tourism plans to hold with stakeholders in other key international markets.
Led by His Excellency Helal Saeed Almarri, Director-General of Dubai Tourism, the discussions enabled the Department to strengthen relationships with prominent trade partners to provide even greater visibility for the diversity of Dubai's offerings across the travel and trade ecosystem in the UK. HE Almarri also provided insights into future growth plans and marketing initiatives to drive awareness and consideration around the city's evolving product offerings for British travellers, as well as discussing ways in which Dubai Tourism could work even more closely with British stakeholders to promote the emirate to target audiences in the UK.
The strategic meetings offered a clear indication of the UK's continued prominence as one of the emirate's top source markets and fit within the framework of regular industry engagements initiated by the Department to further enhance collaboration with stakeholders and partners in line with Dubai's Tourism Vision 2022-2025.
Commenting on the meetings, HE Helal Saeed Al Marri, said, "We remain committed to ensuring that our valued partners – both, locally and globally – are well aligned with the emirate's tourism strategy and are empowered to collectively leverage diverse campaigns and concerted efforts to ensure Dubai remains a perennial favourite for British travellers."