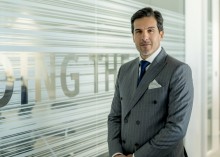 Leading international real estate and construction consultancy, Drees & Sommer, announced the launch of the specialised global hospitality team based in Dubai as an extension to the existing European operation. The new hospitality division will provide a full service offering for investors and owners throughout the Middle East, Africa, Asia, People's Republic of China and the rest of the world. The extension is a result of the tourism growth in the Middle East region. Located in Dubai, Drees & Sommer will capitalise on the extensive experience of the team across all facets of the hotel industry. The team in the Middle East, led by the Managing Director of Global Hospitality, Filippo Sona, will provide a full service offering from feasibility studies, hospitality consulting, technical services, project management, construction management and asset performance management.
"The dedicated hospitality team of 10 hospitality experts will benefit from the expertise of 3,200 employees based in 41 offices worldwide, combining local market knowledge with world-class international hospitality trend know how to deliver projects globally. The company will initially focus on key segments of the tourism industry which include hotels, resorts, serviced apartments, golf courses, marinas, spa, theme parks and the entertainment industry," said Sona.
Drees & Sommer has vast experience in the hospitality sector having completed over 1,114 projects in 28 countries and 88 cities worldwide. "Our remit is to draw on the vast hospitality experience the team has accumulated, which is underscored by the quality of our project delivery and in-depth understanding of all the markets we operate in, to the benefit of the client and the profitability of the owner," concluded Sona.