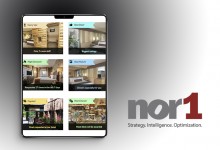 Nor1, the global leader in hospitality upgrade, upsell, and merchandising technology, has announced the launch of game-changing merchandising features to their flagship product, eStandby. These inventory-based guest communications trigger bookings and upsell, and have driven conversion rates above 25 per cent, creating significant increases in revenues, direct to properties.
"Today's guests demand and deserve absolute transparency in the booking process," says Jason G. Bryant, Founder and CEO, Nor1. "Accuracy and useful information are key. Our technology is different than anything else on the market because it reflects actual real-time inventory through our two-way integration. We serve up relevant data-driven offers based on a micro-segmented machine learning approach, as well as highlight what is in high-demand by others to prompt guests to make quicker and more confident buying decisions. Even without integration, we still know how many guests have requested an offer, or which offer is most likely to convert based on what similar guests have requested, or what hotels have awarded most."
Powered by machine learning, eStandby and its confirmed upsell sister product eXpress Upgrade, enable hotels to maximise revenue and drive real operational efficiencies to generate the highest ROI on upselling technology in the industry. The new merchandising banner features are designed to inspire guests to convert based on influencial buying triggers such as scarcity of product, popular demand, or customised offers.
Jason adds, "By leveraging some of the top performing merchandising and recommendation mechanisms that travellers see and respond to on booking sites like Expedia, our latest enhancements level the playing field for hoteliers in their competition with third parties."