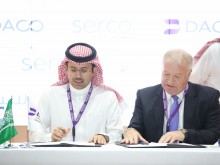 Dammam Airports Company (DACO) has signed two strategic agreements with Vanderlande and Serco Middle East at the 18th Airport Show in Dubai. The agreements are  as part of DACO's agreement with Vanderlande, the global market leader for value-added logistic process automation at airports. The two entities will work on introducing a state-of-the-art Baggage Handling System (BHS) at KFIA that will help make travel procedures smoother for airport personnel, passengers and airlines.
"Guided by our vision to transform airports and redefine the travel experience, our efforts in the last 10 months have focussed on expanding the airport's operational efficiency, as it witnesses a steady growth in passenger traffic and an increased demand for commercial services. We are pleased to partner with global leaders like Vanderlande and Serco Middle East to execute our long-term plans for the airport, and transform it into a major hub for air transportation within the region and beyond," said Turki Abdullah Al-Jawini, Chief Executive Officer, Dammam Airports Company.
The agreement with Serco Middle East, is to to install cutting-edge fire and rescue services at the airport. The contract, which makes KFIA the first Saudi airport to leverage an international service provider's expertise in firefighting systems, will help raise the airport's safety standards in line with its existing firefighting protocols.