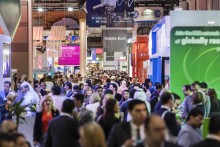 The impact of disruptive technologies on the tourism industry is set to create multi-billion dollar savings through the use of IoT, robotics, artificial intelligence (AI), Virtual Reality (VR) and wearable technology according to data published ahead of Arabian Travel Market (ATM) 2019, set to take place at Dubai World Trade Centre from April 28 to May 1, 2019. The latest research from Colliers International, in partnership with ATM 2019, reveals that in addition to vast cost savings, the customer experience is set to be more streamlined with travel set to become better, smoother and more personalised with travel bookings on VR platforms, AI chatbots guiding customers through the booking process and IoT providing internet based inter-connectivity between everyday devices.
Danielle Curtis, Exhibition Director ME, Arabian Travel Market, said, "Technology, and the use of technology, is evolving every day. The tourism industry is at the very forefront of tech innovation with companies investing huge sums of money to improve the customer journey and experience."
ATM 2019 has adopted cutting-edge technology and innovation as its main theme and this will be integrated across all show verticals and activities, including focused seminar sessions. Discussing the defining evolutions of hospitality technology, the Travel Tech Show will return to ATM 2019 with 45 dedicated international exhibitors and an influential agenda of discussion and debate in the Travel Tech Theatre – sponsored by Sabre Corporation. Launching this year will be the inaugural Arabian Travel Week, an umbrella brand which comprises four co-located shows: ATM 2019; Connect Middle East, India and Africa – a new route development forum, ILTM Arabia and new consumer-led event – ATM Holiday Shopper.