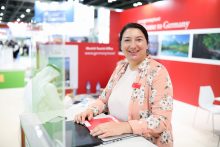 In just a few hours, at 12noon GST you can virtually explore one of the hidden gems in Germany; its northern region with pristine sandy beaches, white chalk cliffs, sophisticated Baltic seaside resorts, cozy fishing villages, sky high brick churches and fairy tale castles of Meckenburg-Vorpommem. Germany is one of the most popular vacation destinations for the travelers in the Middle East as it has a diverse offering catering to each traveler from the Middle East, whether it be family, millennial, leisure, MICE etc. Meckenburg-Vorpommem located between the metropolises of Berlin and Hamburg in the northeast of Germany, the federal state of Mecklenburg-Vorpommern has fascinated guests from all over the world for centuries. It is time once again for the agents in the region to take a quick peak at the destination to offer a new area to explore to those yearning to discover.
Yamina Sofo Director Sales and Marketing German National Tourist Office GCC shares the importance of attending this event and invites all trade partners to join and learn about the novelties of this destination virtually at first. "We are looking forward welcoming our valued trade partners to ´The Gems of Northern Germany` where we will inform and update the GCC trade about Destination Germany and shed a special light to the beautiful federal-state of Mecklenburg-Vorpommern, one of Germany´s leading tourist destinations. We see immense potential of Germany`s Northern regions for our GCC guests and therefore wish to showcase the special natural wonders and cultural offering there are to experience. From pristine beaches to cozy fishing villages, fairy tale castles to sophisticated seaside resorts the destination has a treat for all age groups."
The region welcomes its guests with 2,000 kilometres of Baltic Sea coasts and 2,000 glistening lakes. It is also known as the sunniest region in all of Germany with 2,000 hours of sunshine per year. Also more than 30% of the whole region is under conservation. The unspoiled nature of Mecklenburg-Vorpommern inspired famous painters throughout the centuries and is best explored by foot, bike or boat says the experts. In terms of local wellness they offer such as Thalassotherapy and the so called healing forests or for those who want to let loose with all kinds of activities on land or on water you can take up kitesurfing, stand up paddling or Jeep Safari on an island. Virtually you can immerse yourself in the culture of a historical region and enjoy the local cuisine with freshly caught fish and the 700-year-old brewing tradition. These are just a glimpse of the many reasons why Mecklenburg-Vorpommern is the most popular travel destination within Germany and enjoys notoriety across borders. Once you join us you can virtually visit and see for yourself.