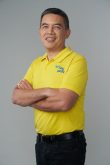 During the pandemic Cebu Pacific has been tirelessly working to ensure the confidence of the travellers. Speaking to TravTalk ME Alex Reyes – Vice President for Commercial at Cebu Pacific shared, "proving further its unyielding commitment to provide ease of travel for passengers amidst the impact of the COVID-19 pandemic, CEB has been operating 20 per cent of its pre-COVID domestic network as of February 2021, operating flights to 28 Philippine destinations—of which, six destinations are already open for non-essential or leisure travel. As of this date, the airline has already restored flights to 86 per cent of our domestic destinations. Frequencies may be less than before, but it is also important to note that we are now providing access to more local destinations. We remain keen to make travel easier by providing flexibility in hopes of restoring passenger confidence in air travel."
CEB has remained unswerving in its mandate to provide the highest level of aviation service for passengers and tourists, even amidst the hurdles of the pandemic. We continue to implement a multi-layered approach to safety, in accordance with global aviation standards. These include daily extensive cleaning and disinfection protocols for all aircraft and facilities, antigen testing before duty for all frontliners and crew members, and contactless flight procedures. These are all in accordance with global best practices and the highest safety standards. Aircraft are equipped with hospital-grade HEPA air filters, which make the inflight transmission of COVID-19 low or virtually non-existent. We have also ensured that cargo operations have remained active to ensure the transport of goods isn't hampered.
In terms of new products Reyes reiterated, "One the new undertakings CEB has introduced in order to restore passenger confidence in air travel includes permanently removing change fees, allowing travellers now to rebook their flights as many times as needed. Apart from unlimited rebooking, we also offer a travel fund valid for two years in a bid to provide our passengers utmost flexibility in the booking. In addition, CEB has also introduced its newest add-on to CEB Travelsure called COVID Protect. This service provides coverage for COVID-19-related hospitalisation and treatments for as low as AED21 (PHP270). This newest top-up provides passengers who test positive for COVID-19 up to AED76,459 (PHP1 million) coverage for hospitalisation and medical expenses. Lastly, our Test Before Boarding (TBB) initiative allows domestic passengers to conveniently have their antigen tests administered at the NAIA Terminal 3 just hours before their estimated time of departure. Results are released within 30 minutes, and only those holding negative test results will be allowed to board the flight."
CEB remains committed to prioritising the safety of its passengers and personnel as it continues to implement enhanced bio-security preventive measures. It has carried out a three-step approach to boosting travel confidence: Sanitation & Safety, Track & Trace, and Testing. Our sanitation and safety initiatives include stricter protocols and SOPs to ensure virus transmission is virtually non-existent, with all our measures in line with the practises and guidelines of the global aviation industry (ICAO/IATA), as well as standards set by local authorities. In fact, we have been rated 7/7 stars by global airline quality rating company AirlineRatings.com for our compliance with the safety measures against COVID-19. CEB perfectly scored in its seven categories, including COVID-19 website information and instructions, social distancing while boarding, flight attendant's personal protection equipment, compulsory wearing of face masks, modified meal service, passenger's sanitiser kit, and deep disinfection of aircraft. For our Track and Trace approach, we have introduced Traze, a unified national QR code-based app that will automate the contact tracing of the aviation sector for the Department of Transportation and all its attached agencies. Lastly, we also offer RT PCR tests for COVID-19 with partner clinics at an affordable rate of PHP3300 (AED249); exclusive for CEB passengers flying out of Manila. We have also launched TBB together with the General Santos City Local Government Unit and Philippine Airport Diagnostic Laboratory.