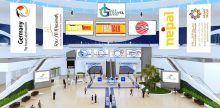 The first-ever virtual event in the region, the Gulf Travel Show 2020 concluded its final day with 40 plus exhibitors, 3,000 one-to-one meetings, and 2,500 visitors from 59 countries which included travel agents, tour operators, tourism boards, airlines, hotels, travel management companies and international agencies.
San Jeet, Director, DDP group reiterated in his address, "Advancing connections in a changing world has never been more important. We want you to make the most of this platform and help us shape the future. Our goal is to offer a virtual show that is as dynamic and as rewarding as a physical one. As we embark on this new endeavour, we intend to build connections, grow businesses and establish long-term mutually beneficial relationships."
Local and international industry leaders attracted viewers with their insightful and engaging panel discussions. The hosted buyer programme along with the leader board motivated buyers to have meetings till the late hour.