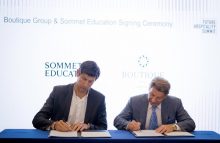 Boutique Group signed MoU with Sommet Education. Sommet Education will support Boutique Group through customized and bespoke training pathways, enabling Boutique Group employees to benefit from Sommet Education's vast experience in crafting hospitality programs, tailored to the talent development of the company's employees. As Boutique Group continues to recruit talent, locally and internationally, Sommet Education has the opportunity to play a significant role through its established network to ensure that the unique talents from its Hospitality schools join the Boutique Group's team.
A leading international network of hospitality management and culinary arts schools, Sommet Education encompasses prestigious institutions such as Swiss originated hospitality business schools Glion Institute of Higher Education and Les Roches, together with culinary and pastry arts school École Ducasse.
Boutique Group is a one-of-a-kind hospitality company developed to deliver a unique ultra-luxury Saudi experience that contributes to the local economy and enhances the Kingdom's position as a leading cultural tourism destination in line with the Vision 2030. The collaboration between Boutique Group and Sommet Education will focus on three main areas: training programs, recruitment, and internships.
Boutique Group will offer internship programs for students, providing them with invaluable hands-on training and experience. In turn this will help to establish a talent network, ensuring a flow of passionate individuals who are familiar with the company's ethos and standards.