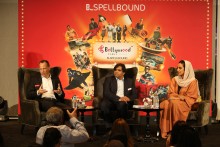 Bollywood Parks Dubai, the first of its kind Bollywood themed park in the world, and a part of Dubai Parks and Resorts, set to be the region's largest integrated theme park destination on its opening in October 2016, presented an exclusive preview and tour of the upcoming park at a press conference held at Taj Dubai, Business Bay. Hosting the event was Thomas Jellum, General Manager of Bollywood Parks Dubai along with senior management from Dubai Parks and Resorts. Based on popular films featuring the biggest names of Bollywood including Shahrukh Khan, Salman Khan, Aamir Khan, Hrithik Roshan, Farhan Akhtar and more, the mega-entertainment project unveiled details of all its major rides and attractions that will appeal to families and children alike and immerse visitors into the grand and explosive world of Hindi Cinema.
Jellum commented: "We cannot wait to welcome people into Bollywood Parks™ Dubai this October! Each show and each ride has all been carefully developed to completely transport our guests into the world of Bollywood, whether they are chasing Don, flying with Krrish, being saved by Chulbul Pandey or playing cricket with Bhuvan and today we have highlighted our biggest attractions. Bollywood is cherished and adored not just by people in the region, but by a large global audience and we are positive that the park will be the hottest destination in Dubai this year."
Highlights of the press conference were a special never seen before video preview of the park featuring clips of the intellectual properties as well as the first look of the new Pre-launch brand campaign featuring 2 characters created specially for Bollywood Parks™ Dubai. Several interactive displays were also presented to the guests as part of the immersive tour that allowed for selfies and snapchats plenty. The event ended in true Bollywood fashion with an energy filled live performance that gave the audience a glimpse of what's to come, leaving them to B_Spellbound!