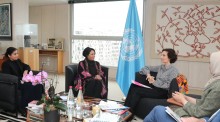 Sheikha Bodour bint Sultan Al Qasimi, Vice President of International Publishers Association (IPA), and Head of Advisory Committee of Sharjah World Book Capital (SWBC), said the prestigious UNESCO title is a global acknowledgement of Sharjah's longstanding cultural achievements. It is also a reward for pursuing an approach of knowledge-based human development in Sharjah through the use of books, reading, and strong intercultural dialogue. Sheikha Bodour's statement came during a meeting with Her Excellency Dr. Audrey Azoulay, Director-General of UNESCO, at the UN agency's headquarters in Paris.  She also met with other UN officials and shed light on the historical ties of friendship and cooperation shared by Sharjah and UNESCO.
Sheikha Bodour introduced the programme of events set for SWBC, "Sharjah is rolling out a year-long programme based on six principals that reflect our vision of engaging all segments of the UAE community. Our aim is to ease access to books and education; in doing so, we believe that we can promote cross-cultural dialogue and harmony, as well as build a future generation that is capable of furthering our nation's vision."
Dr Azoulay highlighted the ambitious programme prepared by Sharjah and its tremendous potential to grow further and to foster a culture of reading in the United Arab Emirates and beyond.  At the end of the meeting, Sheikha Bodour invited Dr Audrey Azoulay to attend the official inauguration of the SWBC 2019 cultural programme on April 23, 2019.
Sharjah has been selected as World Book Capital City for the year 2019 and the programme (which runs from April 2019 until April 2020) has been created in collaboration with all committee members.