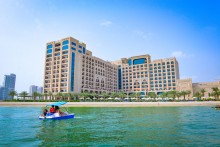 BlueBay Hotels, the eleventh Spanish hotel company regarding international presence and the twelfth largest group in terms of hotel rooms, is consolidating its growth in the Middle East with the opening of the Blue Diamond AlSalam Resort (5*GL) in Fujairah (United Arab Emirates). "With this new opening we're confirming our commitment to high-end tourism in the Middle East, and we're also strengthening our presence in MENA, where we already have nine hotels in strategic areas such as Dubai, Mecca and Medina. This area is showing strong potential for tourism and is a central element in our current and future growth,"  says Jamal Satli Iglesias, Chairman of BlueBay Hotels.
The design of the hotel recovers traditional and luxurious oriental craftsmanship in its details and spaces, along with functionality provided by the western concept, which is something that's highly demanded by travellers. "The hotel boasts the very latest advanced technology while also maintaining the essence of luxury hotels in the area. Guests may expect to experience an authentic Arab tradition with contemporary touches and spend enjoyable time in an exceptional environment," explains Ramón Hernández, BlueBay Hotels' CEO. The resort is one hour drive from the Dubai International Airport and close to major tourist attractions in the emirate. Located on the beachfront, the hotel's rooms offer tourists the ultimate in luxury and wellness through a harmonious fusion with nature. It has 377 grand luxury rooms and suites, each with a balcony or terrace overlooking the Indian Ocean, offering spectacular views.
BlueBay Gourmet offers unforgettable and exotic dining experience featuring a wide variety of international cuisines, prepared by an elite group of global award-winning chefs. The resort boasts several world-class restaurants and cafes specializing and serving authentic Asian and Italian cuisines among others. The hotel also has several other facilities, including a world-class spa offering ultimate treatments and rituals, a gym and three temperature-controlled outdoor swimming pools.