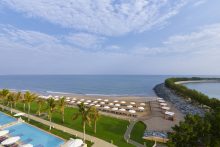 Barceló Mussanah Resort welcomed over 100,000 guests over the past year since its opening and as they celebrates their first anniversary this July offers residents and visitors of the Sultanate a host of summer activities to commemorate its successful first year since its launch in 2021. The four-star property has launched a variety of exciting and tantalising summer activities, catering to the needs of every type of traveller. One of the main attractions is the 175-metre long zip-line, which will exhilarate thrill-seekers as they glide across the picturesque views of the Mussanah marina. Focused on guest safety, the zip-line is managed and operated by the resort's trained staff, promising hours of thrilling fun.
In 2021, following the successful operations of four properties in the region, trailblazing Spanish hotel chain – Barceló Hotel Group launched Barceló Mussanah Resort intending to support Oman's vision to diversify the hospitality and tourist sectors in the Sultanate. Since opening its doors, Mussanah's flagship has rapidly risen in popularity, hosting nearly 100,000 guests, becoming a popular travel destination for national and international travellers. The stellar property has also hosted eight international sporting events in the past year in partnership with Oman Sail, including the 11th edition of the coveted Sailing Arabia – The Tour (SATT) and Youth Sailing World Championships that attained Barceló Hotel Group and Oman Sail the Silver Award for 'Best Sports Event of the Year 2021' at the Middle East Sports Industry Awards 2022.
Adventure seekers looking to beat the summer heat can indulge in a wide range of water-sports activities, including sailing across the smooth waters of Mussanah or an early morning kayak across the beautiful marina. Snorkel among the vibrant coral reef, make waves with jet skis across the beach, or rejuvenate at the property's exceptional Spa and Fitness Centre.
The fun does not stop there; Barceló Mussanah Resort, in collaboration with Oman Sail, has launched daily sailing cruises from 4:30 PM to 7 PM for guests and day-visitors, including private snorkeling day-trips to witness the majestic whale sharks as they glide the crystal blue waters of UNESCO-protected Al Dimaniyat Island. In addition, Barceló Mussanah Resort has also launched new daily sunset cruises, offering guests scenic views of the Mussanah marina and the Sultanate's vibrant marine life.
Parents can relax and unwind by the beach or participate in a variety of leisure activities as Barceló Mussanah Resort has a range of fun and informative activities to keep the little ones entertained throughout the day. The Barceló Mussanah Resort Kids' Club provides a wonderful space for children to engage in games and watch movies.
At the resort, guests can engage in some much-needed family time with a range of sports and beach activities, including tennis, football, volleyball, table tennis, and more.
The property offers world-class sailing facilities with a fully staffed workshop and facilities for sanding, spray, fiberglass and engine repairs. Additionally, Barceló Mussanah Resort's quality 54-berth marina, managed by Oman Sail, provides dockside support and first-class amenities, including boat cleaning, assistance upon arrival, and a fuel dock. The resort's state-of-the-art facilities and impeccable service have made it a sought-after venue for local organisations to host corporate events.
Tailored to suit the needs of every guest, the stunning property offers 234 elegantly designed and spacious rooms, including 19 lavish suites, and 74 luxurious one-bedroom and two-bedroom duplex apartments.
Dermot Birchall, General Manager of Barceló Mussanah Resort, speaking on the first anniversary says, "As the first Barceló property in Oman, our one-year anniversary is very special to us. The Group is renowned as the leading Spanish hotel chain in the Middle East and a global leader in hospitality, offering world-class amenities and unique guest experiences. At Barceló Mussanah Resort, we have combined the Group's innovative principles to bring the Spanish hospitality flair to Oman. As a result, Barceló Mussanah Resort has rapidly risen in popularity among residents, visitors and international travellers. I would like to thank my team for their passion and dedication, and look forward to enhancing Barceló Mussanah Resort's growth as a leading world travel destination for the years to come."