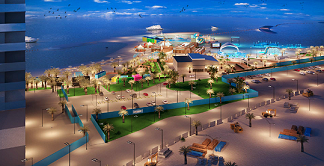 The Bahrain Tourism and Exhibitions Authority (BTEA) has announced the dates of the fourth edition of the annual Sea Festival, which will be held at Marassi Beach for a period of 10 days from November 7-16. First launched in 2016, the Sea Festival celebrates the Kingdom's historical ties to the sea, seeking to educate modern-day visitors and tourists on the Kingdom's deeply-rooted past and revive the Kingdom's sea legacy by showcasing several sea-related traditions and activities.
BTEA continues its efforts to showcase the Kingdom of Bahrain as the ideal tourism destination for families which offers a unique experience to visitors of all ages. This year's edition of the Sea Festival will include a number of attractions such as water sports activities, boat rides, traditional music performances, handicrafts, and pearl merchants. There will also be plenty of entertainment during the Festival with an amazing on-stage Sea World Performance (Cirque De La Mer) alongside a museum, outdoor cinema and an interactive play area for kids.
The Sea Festival aligns with the BTEA's overall strategy which aims at developing and strengthening the tourism sector under the slogan 'Ours. Yours', which contribute towards the Kingdom's economy and 2030 Economic Vision.