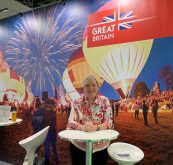 It was announced by the UK Government that, from 1 June, Bahrain and Saudi Arabia will join other Gulf Cooperation Council countries with UK electronic visa waiver status, making it easier and cheaper to travel to the UK. This positive change comes as the UK is open to business and welcoming back international visitors with all COVID-19 travel restrictions lifted.  VisitBritain has already been rolling out a multi-million-pound global GREAT Britain marketing campaign "Welcome to another side of Britain" to inspire visitors to book a trip to the UK.
VisitBritain Director for Asia Pacific, Middle East, Africa (APMEA) and North Asia Tricia Warwick said: "It is fantastic news that travel to the UK will become easier for travellers from Saudi Arabia and Bahrain who will now be able to obtain their British visa in 48 hours and for 30 GBP. Saudi Arabia is one of our highest spending markets, we know there is strong pent-up demand for international travel from the Gulf and making it easier for visitors to get to the UK is crucial to our message of welcome and to our competitive tourism offer.
We know that GCC visitors are keen to visit the UK now that travel restrictions have eased and we can't wait to welcome them back. GCC visitors enjoy our outstanding experiences whether that be in shopping, sports events, food or our beautiful landscapes.
"VisitBritain is out in market competing hard for visitors from the Gulf at the Arabian Travel Market this week in Dubai, working with top travel trade buyers from across the region to highlight why now is a brilliant time to book a trip to Britain. We very much hope that visitors from these countries will seize this amazing opportunity and book their trip to the UK now."
VisitBritain's latest international consumer sentiment research showed that 84% of Saudi Arabian respondents surveyed intend to travel internationally for leisure in the next 12 months, 51% definitely and, of those, 67% had not yet booked or decided where to go which presents a great opportunity for VisitBritain to influence destination choice and bookings.
2022 is an incredibly exciting year for the UK with landmark events including HM The Queen's Platinum Jubilee (02-05.06.22), the Birmingham 2022 Commonwealth Games (28.07.22 – 08.08.22) and the ground-breaking 'UNBOXED: Creativity in the UK' 2022 , all presenting exciting and timely opportunities for once-in-a-lifetime experiences that visitors can only enjoy in the UK.
As well as these events, 2022 also sees events including the Women's Euros and Rugby League World Cup and return of many favourite annual events including Wimbledon, the Chelsea Flower Show and the Hay Festival in May, Royal Ascot in June, the 150th Open Championship at St. Andrews in July, the Edinburgh International Festival and 75th annual Festival Fringe in August.