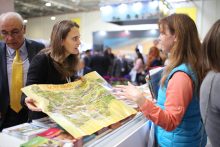 After a break caused by the pandemic, the 19th Azerbaijan International Travel and Tourism Fair AITF 2023 will reopen its doors at Baku Expo Center from 4 to 6 April. The organiser of the event is the Caspian Event Organisers company. Traditionally one of the leading events in the tourism sector of the entire region, the AITF exhibition brings together the leading players in the industry, provides them with the opportunity to establish new contacts, significantly expand the geography of sales and learn about the latest innovations and trends in the tourism industry.
The AITF 2023 exhibition will bring together companies from Azerbaijan, Belarus, Bulgaria, Georgia, Cuba, Lithuania, Malaysia, Poland, Russia, Slovenia, Thailand, Tunisia, Turkey, the Czech Republic, Switzerland, and other countries. The visiting card of the AITF exhibition are national stands, this year such countries as Belarus, Croatia, Poland, and others will exhibit them.
Bulgaria, which is a permanent participant of the exhibition, will be the general sponsor of AITF 2023 this year.
The exhibition will cover the following areas:
Outbound tourism
Domestic tourism
Inbound tourism
AITF 2023 will feature relevant sectors such as: medical tourism, educational tourism, overseas real estate, sports tourism, information technology in tourism, hunting and fishing, cruise ships, airlines, national and regional tourism authorities, ministries, embassies, travel agencies and tour operators.
A rich business program awaits participants and visitors. Traditionally, within the framework of the exhibition, bilateral business meetings (B2B) will be held, at which representatives of domestic and foreign companies will discuss ways of cooperation and other forms of partnership in person.
AITF 2023 is a long-awaited event for professionals in the tourism industry, as international and local companies will have the opportunity to meet, discuss the further development of the tourism sector and present their proposals. They will also be able to assess the needs of the market and the interest of consumers, study the competitive environment and develop a strategy for developing the tourism potential of their country.
You can follow updates about the exhibition on social networks and on the official website: www.aitf.az.