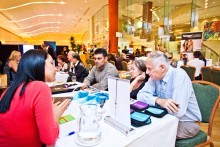 AVIAREPS is set to launch a series of international roadshows throughout 2017 to major and emerging outbound markets and cities around the globe. AVIAREPS Roadshows confirmed for 2017 include the United Kingdom (London, Cardiff, Birmingham and Manchester) from March 13-16; Italy (Monza, Piacenza and Pavia) from March 28-30; the Middle East (Dammam and Riyadh in Saudi Arabia and Kuwait) from October 15-18; and then a second Middle East roadshow to Dubai (UAE), Qatar and Oman from November 19–22. Additional roadshows planned include: Taiwan (Taipei, Taichung and Kaohsiung) in Q2; Brazil in Q2; and Germany and South Africa with dates yet to be formally announced. Further roadshows in other markets are also expected to be confirmed in the interim.
Thomas Drechsler, COO Tourism, AVIAREPS: "We understand that for both large and small entities new market development is essential for long term commercial survival and success. We also understand that investing in a new market is expensive and can take some time to create a return on investment. The launch of the AVIAREPS roadshows allows such entities of all sizes to economically test and engage in a new market, knowing that they are meeting the right people, maximising their time, and as most cases to date have proven, coming away with new business and an immediate return."
The AVIAREPS Roadshows are unique in that they are not brand or destination specific, are open to all entities (both established AVIAREPS clients and otherwise), and provide quality individual meeting opportunities with each market's leading outbound contractors, product developers, general managers, sales managers, and MICE specialists.
The roadshows are open to all national, regional and city tourism promotion boards, hospitality brands, inbound tour operators, aviation brands, and even individual hotels and resorts. The initiative was launched so that all tourism, hospitality and aviation entities wishing to test, enter, expand and establish business contacts with key international outbound industry decision makers in numerous markets could do so economically and with confidence; with minimum cost and maximum impact.