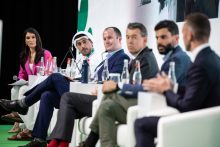 29th edition of the Arabian Travel Market concluded day two with great success. According to some of the exhibitors this year's ATM is one of the best in terms of business meetings.
His Highness Sheikh Ahmed bin Saeed Al Maktoum, President of Dubai Civil Aviation Authority, Chairman of Dubai Airports, Chairman and Chief Executive of Emirates Airline and Group and Chairman of Dubai World shared that Dubai continues to strengthen its position at the forefront of global travel and tourism recovery by hosting global events that bring together decision-makers in the sector from across the region and the globe, contributing to worldwide efforts to open new growth horizons for the industry. Dubai's ability to provide a safe environment for both tourism and prominent global events over the past two years and its success in overcoming the repercussions of the recent worldwide health crisis have enabled it to welcome large numbers of visitors from all over the world.
"Dubai provides a unique model for sustainable development that not only promotes economic progress within the nation but also stimulates growth in the region and broader global markets. The Arabian Travel Market provides a vital platform for tourism and travel industry leaders in the Middle East and across the world to connect and network with each other and discover new opportunities for growth, collaboration and success," he said.
Taking place from Monday 9 to Thursday 12 May, this year's event is more than 85% larger than ATM 2021 in terms of floorspace, with growth in every single region. ATM 2022 features 1,500 exhibitors, representatives from 158 global destinations, and an anticipated 20,000 attendees. The live show will be followed by ATM Virtual, which will run from Tuesday 17 to Wednesday 18 May.
Taking place at Dubai World Trade Centre (DWTC) in collaboration with DET, ATM 2022's theme – 'The future of international travel and tourism' – will be reflected throughout the show. The ATM Global Stage and ATM Travel Tech Stage will host 40 conference sessions comprising 150 speakers.
New this year is the ATM Draper-Aladdin Start-up Competition, which has generated a huge buzz since its launch. The initiative will see up to 15 travel, tourism, and hospitality innovators pitch for up to $500,000 of funding – not to mention the opportunity to compete for an additional $500,000 of investment as part of the hit TV show, Meet the Drapers.
In addition, ATM 2022 will include in-depth buyer forums dedicated to India and Saudi Arabia; live interviews with aviation and hospitality experts; debates on the future of sports, city and responsible tourism; the ITIC-ATM Middle East Summit on tourism investment; digital influencer networking; best stand awards; and the return of ILTM Arabia, with its focus on the lucrative luxury travel market.
For the first time, the ARIVALDubai@ATM forum and the Global Business Travel Association (GBTA) will take place live in Dubai after joining remotely for ATM 2021.
At the opening session, commenting on the ever-increasing importance of environmentally responsible travel and tourism, Issam Kazim said: "A few years ago, we launched special awards to recognise the efforts that hotels in Dubai are making in advancing sustainability within the emirate's tourism industry. We have now broadened this with the continued support of our valued stakeholders and partners to ensure that everyone operating in the travel and tourism space is working with sustainability at top of mind. We are also highlighting its importance to residents and visitors, as evident in the launch of the Dubai Can sustainability initiative.
"With the post-pandemic era set to create a highly competitive landscape, our successful tourism recovery strategy is still evolving in keeping to the disruption taking place across global tourism. As we continue to embrace creativity and innovation to stay ahead of the curve, we will remain focused on creating alternative pathways to growth as we strive to achieve the goal of our visionary leadership to make Dubai the world's most sought-after destination and the best place in the world to live and work in," Kazim added.
Regional trips accounted for 55 percent of demand in 2019, according to Scott Livermore, and this figure grew to more than 80 percent during the segment's post-Covid peak. While Livermore predicted the proportion of regional trips accounted for by international travel would continue to recover in the future, he also pointed out that the importance of domestic travel was likely to persist.
In addition, speakers highlighted the role of mega-events, such as Expo 2020 Dubai and FIFA World Cup Qatar 2022, in ensuring tourism in the Middle East continues to recover more rapidly than in other regions. Panellists also noted that, while issues related to the supply chain and oil prices represent challenges for the sector, they remain cautiously optimistic due to high levels of pend-up demand in the wake of the pandemic.
Danielle Curtis, Exhibition Director ME for Arabian Travel Market, said: "Speakers during our opening session offered a selection of fascinating insights into the future of the Middle East's travel and tourism sector.
"Industry professionals are going to great lengths to meet customers' evolving requirements in the wake of the global pandemic, and it was interesting to learn about the steps already taken to ensure the long-term success of travel and tourism in our region.