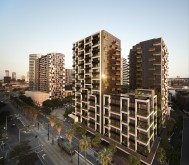 The Ascott Limited (Ascott), the serviced residence owner- operator, is continuing to expand its operations in Saudi Arabia by unveiling plans for 'The Ascott Villas Riyadh'. The 92-unit 5-star serviced villas would be the group's landmark and exclusive offering in the Saudi Arabian capital. Ascott, the service residence operator, and Bathel Alkhair Establishment for Trading and Real Estate, inked a management contract on Thursday 14th July, which puts the project on track to open by November 2017.
It will also strength Ascott's position as the leading serviced residence operator in Saudi Arabia, with 980 units in 7 properties across 3 cities. Located in the prestigious Hittin district, north of Riyadh, with easy access to the city's key business and leisure landmarks, the property will boast a new type of serviced residence experience, combining luxuriously furnished villas with Ascott's award-winning hospitality service. The Ascott Villas is located close to the upcoming King Abdullah Financial District (KAFD), which has been billed as Riyadh's new central business district and is the future home of the Saudi Stock Exchange, Capital Markets Authority and a host of other financial and professional services firms.
Ascott has another property in Riyadh, the 234-units 'Ascott Rafal Olaya Riyadh', which is due to open in the latter part of 2016. Providing a brief introduction about the owners of the property, Miccolis said that the Bathel Alkhair Establishment for Trading and Real Estate, is a Saudi based establishment with the main activities in real estate and financial investments, including the development of residential and hospitality projects, and investment in capital and private equity markets. Currently, the group owns several residential properties and hotels in various cities in Saudi Arabia.