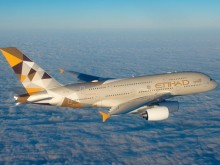 Etihad Airways is now providing its customers Apple Pay, transforming mobile payments with a fast, secure and convenient way to pay for flights and travel. Available on the Etihad Airways mobile app, Apple Pay allows customers, for the first time in the UAE, to pay securely with just a touch of a finger. Etihad Airways' customers can now buy flights and other products such as 'Extra Legroom Seats', 'Preferred Seats' and excess baggage with their iPhone or iPad by simply touching a button. Each transaction is authorised with a one-time unique dynamic security code.
Justin Warby, Vice President Digital Strategy and Innovation, Etihad Airways, said, "We are proud to partner with Apple Pay to bring the latest mobile payment and technology innovations to our guests in the UAE and around the world. We were able to quickly adjust the release cycle of our mobile app to ensure we coincided our launch with Apple in the UAE."
Apple Pay is easy to set up and users will continue to receive all of the rewards and benefits offered by credit and debit cards.