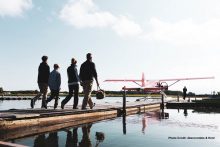 Al Rostamani Travel & Holidays (ART) and Abercrombie & Kent (A&K) have signed a Partner Agreement that will allow ART to market the A&K products to their client-base in both, B2C & B2B segments. This partnership will bring A&K's luxury travel products to the travellers in this region and grow Leisure traffic market share in the Middle East, while also enhancing Al Rostamani Travels portfolio in the luxury segment.
Abercrombie & Kent, is an award-winning luxury travel company, offering unique holiday experiences to luxury travelers. There's nothing DIY about A&K. These holidays are tailor-made escapes and each holiday is as individual as the person it is created for.
Many travel companies have followed in the tracks they laid down, but A&K remains the original tailor-made, luxury holidays company – and still the best.
A&K's Trade Sales Manager, Mark Harris said: "We are delighted to partner with Al Rostamani Travels, who align with our vision of innovation and putting customer experience first. As our industry recovers from the global pandemic, we are expecting good demand from the U.A.E and GCC markets and will further strengthen our position in this high-potential region along with our partners."
Bimal Jain, General Manager, Al Rostamani Travels commented: "We are very excited to announce this strategic partnership with Abercrombie & Kent, a leader in the Luxury Travel segment. As the world begins to reopen and the prospect of travel becomes a reality again, both companies will focus on delivering high-end unique travel experiences to our customers across all segments, in UAE and the Middle East. There is a growing aspiration and increasing need for safe and exclusive luxury holiday packages and with nearly 60 years' experience of handling luxury travelers, A&K understands the need for peace of mind when our client's make their future travel plans."