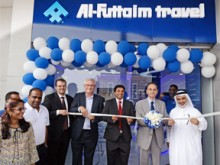 As part of its efforts to enhance customer experience, Al-Futtaim Travel, has opened its Travel Centre in Dubai. Located next to Al Ghurair Centre in Deira, the new Centre, which is now a multichannel operation, will cater to both corporate and leisure/retail customers and will see the Al-Futtaim company providing services including Corporate travel services, Holidays – Outbound and Inbound, Destination Management services and travel related value-add services under one roof.
Commenting on the opening, Biju Antony, Deputy General Manager, Al-Futtaim Travel, said, "We are constantly looking at new and innovative ways to enhance our customer experience and the launch of the new Travel Centre is a big step forward in that direction. The new Centre will provide our corporate and leisure/retail customers with a one-stop-shop for all their travel needs and our expert travel team can develop and deliver globally benchmarked services to meet every requirement."
Alongside the opening of the Travel Centre, Al-Futtaim Travel also launched its enhanced website, alfuttaimtravel.com, where customers can book special deals and holiday packages to thousands of destinations around the world at competitive rates. In addition, Al-Futtaim Travel will also soon launch an e-commerce facility where customers can book their holiday packages and varied travel related services from the comfort of their home.