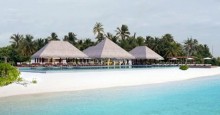 At this year's Arabian Travel Awards, Aitken Spence Hotels is set to launch its first 'Heritance' property overseas, with the introduction of Heritance Aarah in winter 2018. The property, nestled in an island in Raa Atoll, 40 minutes from the Male International Airport will embrace the brand promise of the 'Heritance' chain of hotels. Operating as an all inclusive resort, Heritance Aarah will open doors to 26 intimate luxury duplex ocean suites, 56 sunset ocean villas and 68 land villas ranging from beach villas to pool beach villas, family beach villas and family pool beach villas. With five successful Heritance hotels and resorts in Sri Lanka, each boasting of inimitable stories of culture merging with hospitality and comfort, the move to open this latest resort comes with the expansion plans of Aitken Spence Hotels.
The latest addition will be different and distinctive from the 'Adaaran' brand and introduce its beloved sister brand 'Heritance', bringing to Maldives a unique proposition of quintessentially traditional, curated experiences delicately woven into star-classed luxury.
The six dining outlets includes flavours from hawker stalls to western farmers' market, from France and Italy to the Middle east, Sri Lanka, Delhi, Istanbul, Mexico and Tokyo. The three bars include an exclusive space for Ocean Suite guests, poolside bar and an open-air rooftop venue.