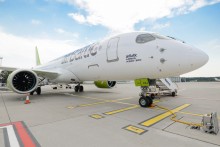 The Latvian airline, airBaltic, in cooperation with Etihad Airways, has announced extension of the operating season of flights between Riga and Abu Dhabi in 2019. The flights will restart on October 28, 2018 and continue until April 29, 2019.
Wolfgang Reuss, SVP, Network Management, airBaltic, said, "When we launched flights to Abu Dhabi last year, it instantly became one of the most demanded routes during the winter season. As more of the Airbus A220-300 aircraft are joining our fleet, we are now extending the operating season of these flights by additional two months in 2019. In addition to serving the point-to-point demand, the cooperation with Etihad Airways offers a multitude of travel options to the Middle East, the Indian Subcontinent and Australasia," Reuss added.
This winter season, airBaltic will also continue flights from Riga to holiday destinations like Malaga, Madrid, Lisbon and Nice. airBaltic will restart flights from Riga to Abu Dhabi on October 28, 2018 and will operate the route 4 times weekly. Passengers will board an Airbus A220-300 aircraft for a flight that will last 6 hours and 15 minutes. One-way ticket prices start at 129 EUR, including airport fees and transaction costs. A full schedule of airBaltic flights can be found on the company's homepage at www.airbaltic.com.